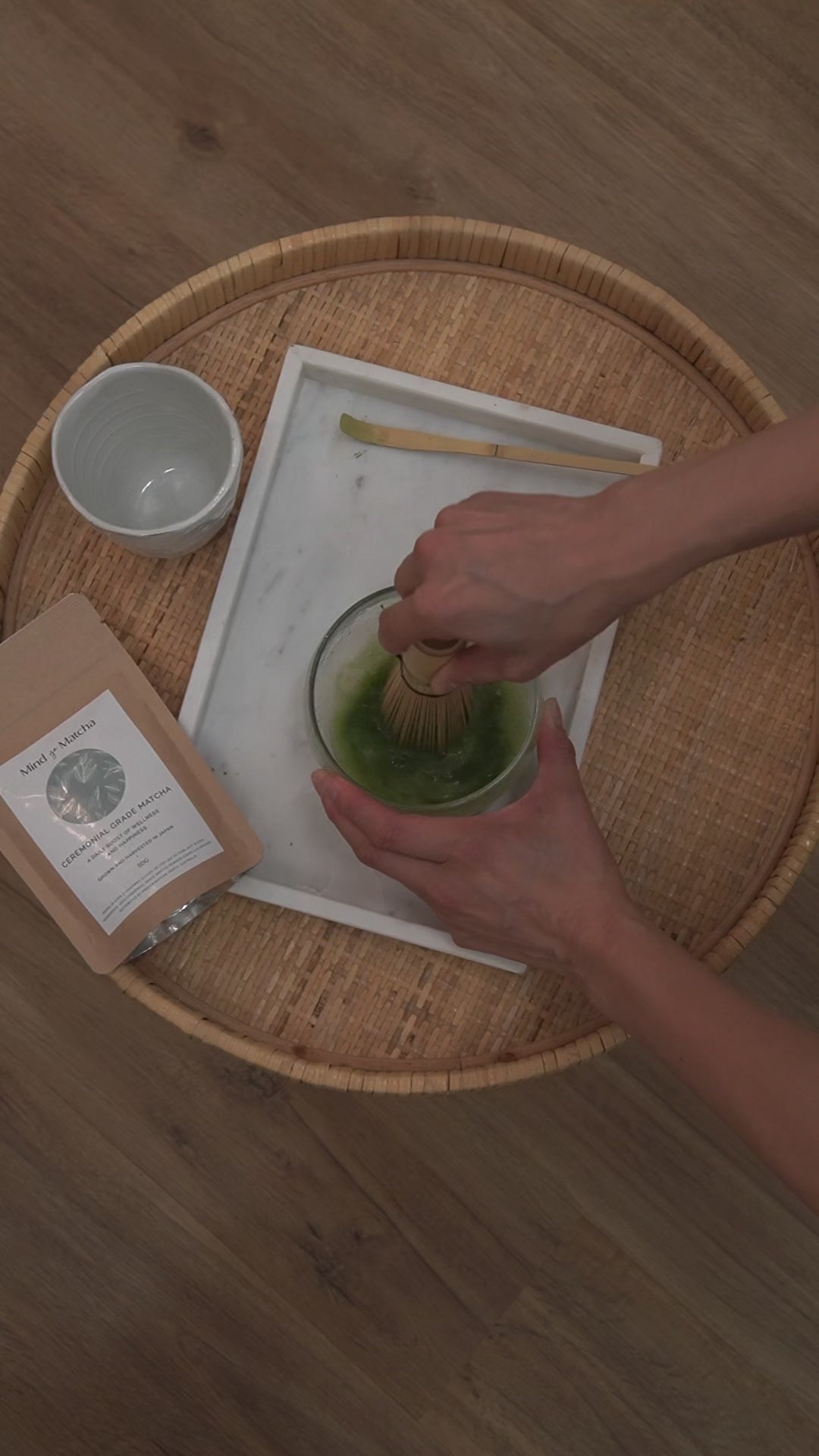 Matcha bundle - ceremonial grade matcha & whisk, bowl, scoop essentials
Bundle:
Matcha Bundle with 50G Matcha Powder
Pickup available at Booragoon Perth Studio
Usually ready in 24 hours
Matcha bundle - ceremonial grade matcha & whisk, bowl, scoop essentials
Matcha Bundle with 50G Matcha Powder
Booragoon Perth Studio
Pickup available, usually ready in 24 hours
1/96 McCoy Street
Booragoon WA 6154
Australia
+61403616241
Made In Australia

Cruelty Free & Toxin Free

Sustainable Packaging
Plant a tree with each box sold
Enjoy drinking matcha daily and want to elevate your self care ritual? Try this matcha kit which includes a beautiful bamboo whisk & scoop, ceramic whisk holder and heat-safe glass bowl.

If you need to stock up on matcha, select the bundle which includes 50g Matcha Powder.

Create a grounding morning ritual with this high-quality ceremonial grade matcha. This is the perfect morning drink to add to your self care routine.

Mind Ya Matcha's ceremonial grade matcha is full of antioxidants and healthy nutrients to fuel your day. Matcha naturally contains caffeine and L-theanine, which when combined together, provides you a slow and steady release of energy to help you stay calm and focused. If you experience energy crashes with coffee, try switching to matcha for a sustained boost of energy throughout your day.

Harvested in Japan, using the finest quality tea leaves.

Created to support rituals that help you simply "be". Perfect to pair with meditations or journalling.

50g (makes about 25-30 cups of matcha depending on strength)
100% ceremonial grade matcha (camellia sinesis), Kajoshima Region of Japan.

Bamboo whisk (Chasen) is essential to help you enjoy your matcha without clumps, it is super easy to use and clean. View our whisking videos in the product images.

Bamboo scoop (Chashaku) makes measuring your matcha easy, as one heaped scoop is 1g of matcha.

Matcha bowl (Chawan) is light weight and heat-safe. It is spouted making it easy to pour.

Whisk holder is made of ceramic designed for your matcha whisk to naturally dry on after cleaning. It helps your whisk hold shape and maintains its lifespan.
1. Place 2 scoops of matcha using your chashaku or 1 teaspoon of matcha in a bowl.
2. Pour 70ml of hot water into the bowl and whisk until well dissolved and a layer of froth sits on top.
3. Optional: add sweetener and milk of choice.
4. Enjoy your drink immediately before a meditation or while journalling.
5. Pair with our Portal of intentional self care rituals. Access your guided ritual via the QR code on the product.
All orders are dispatched the next business day. For WA customers, your order is estimated to arrive within 2-5 business days depending on distance from Perth CBD. For customers outside of WA, your order is estimated to arrive within 5-10 business days.
Guided self-care rituals at your fingertips
Best paired with our sister business Add Goodness meditations. Access via QR code on product.

Click video on the right to view sneak peek of this guided ritual.
SOULFUL RITUALS MEMBERSHIP
Join our community and become a Soulful Rituals Member
In a world where busy-ness is glorified, self care needs to be a priority and not be put on the back-burner.  We've curated the wellbeing tools and guided rituals you need to make self care more easeful and intentional each day. Become a Soulful Rituals Member and be surprised with a powerful rituals box delivered to your door each season, gain access to "members only" guided rituals, as well as weekly support in our community Facebook Group.